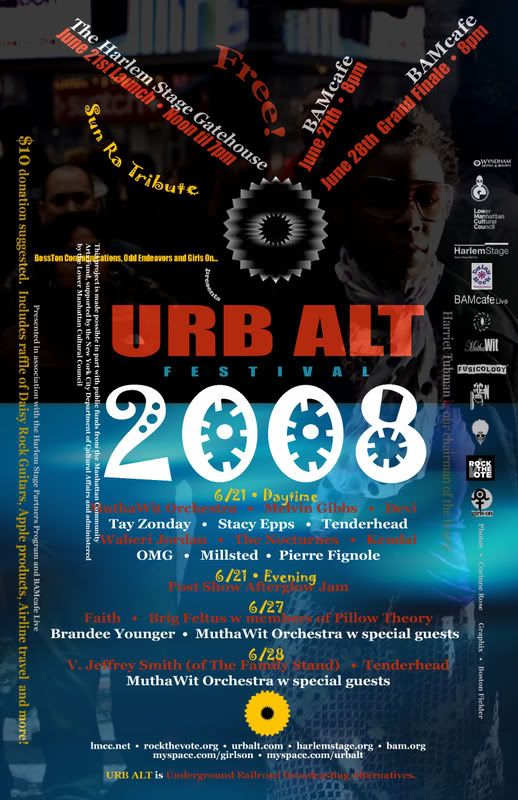 URB ALT Festival 2008 brings the bleeding edge of multi-cultural music/film artists uptown to New York City for third exciting year. The Village Voice stated that the URB ALT Festival features 
artists who are "exemplars of boundary crossing, synthesis and
 unification." The three day lifestyle festival launches June 21st, the first day of summer, as a 7 hour outdoor celebration at the beautiful Harlem Stage Gatehouse. Opening day is a tribute to Sun Ra
URB ALT founder, Boston Fielder, says "Sun Ra is a beacon for creators of all mediums who want to explore the connection between the spirit, entertainment and commerce. The Sun Ra Arkestra was/is a functioning politico-economic-social system that I was exposed to early in life as my cousin was a mainstay drummer for the group. It's an honor to present some of Sun Ra's compositions to our URB ALT Festival audience."
June 27th and 28th finds the URB ALT Festival crossing the bridge into Brooklyn where the events dock at the popular BAMcafe. The second and third night of the URB ALT festival closes out the BAMcafe Live season with even more powerful bills of eclectic artists. URB ALT Festival co-founder declares "MuthaWit put up a very successful show at BAMcafe last October. We were happy that management approached us about having the Finale of the URB ALT Festival there. It's a great room that is friendly to the artist and audience." Both nights will feature the computer generated
 animated projections of Italy based visual artist Roy Lagrone and "Harbinger" feature film director Tim Fielder.
Entrance for events are free with a $10 suggested donation for adults. Raffle tickets for Apple Computer products, a Daisy Rock Guitar, Airline gift certificates and more prizes included with the $10 donation. Various raffle winners will be announced and awarded during the course of each event. A percentage of proceeds will go towards voter registration campaigns with Rock The Vote.
The URB ALT FESTIVAL is a joint production of BossTon Communications, GirlsOn... Productions and Odd Endeavors Productions in association with The Harlem Stage Partners Program(6/21) and BAMcafe Live(6/27 and 6/28). It is made possible in part with public funds from the Manhattan Community Arts Fund, supported by the New York City Department of Cultural Affairs and administered by the Lower Manhattan Cultural Council.
URB ALT Festival 2008 sponsors are Pepsi, Daisy Rock Guitars, BigHead Scientists, Junkmein Media, Rock the Vote, Fusicology, Harlem Stage, BAM, and Wyndham Hotels. URB ALT is Underground Railroad Broadcasting Alternatives, a music/film series and media company founded by Boston Fielder in 1998 to serve the creator and audience seeking uncut entertainment and artistic expression. URB ALT has offered transcendent visuals and revolutionary music to enthusiastic attendees throughout Georgia, Mississippi, North Carolina, California and New York.