Cleopatra's Needle
2485 Broadway
New York, NY 10025
ph. 212-769-6969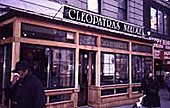 One of the things that still makes the Upper West Side (UWS) a cozy place is a street-level restaurant/jazz club on Broadway at 92nd Street known as Cleopatra's Needle where patrons linger, eat, drink and take in some great jazz sounds day in and day out.
A business establishment since the '70s (originally located next to Symphony Space a few blocks away), Maher Hussein and his brother took over management in 1989 and shortly thereafter moved it to its present location. The Hussein brothers are of Egyptian origin coincidentally, serendipitous as the business was originally named after the famed ancient Egyptian obelisks shipped from Alexandria in the late 1800s to New York's Central Park and London. After visits to New York as students, they became permanent residents by the early '80s. After a few years of co-managing the small inviting room which first featured Asian music, they turned to the music which Maher has always loved - jazz. By 1993, jazz became as permanent a fixture as their highly respected and reasonably priced Mediterranean menu. Though Maher's elder brother passed away in 2000, Maher himself continues a tradition which has become a much needed locale on the UWS. As he simply puts it, "Jazz is everything in my life now."
Visitors have discovered that Cleopatra's Needle - which never charges a cover - is a New York "gem" (Maher especially likes that common reference made of Cleopatra's Needle), showcasing bright young jazz talent to enthusiastic audiences on a full-time basis.
One of the old-school features is the jam session. On many nights up-and-coming players come in to test their chops against their peers, and sometimes elders such as Count Basie alum saxophonist/flute player Frank Wess. The repertoire at these sessions often offers up unexpected chestnuts from some of the finest eras of jazz composition, including the postbop and classic Blue Note eras. And, as in pre-Bird Kansas City, these sessions also test the mettle of the rhythm sections, as soloists are allowed to expound at length. On Tuesday nights, alto saxophonist Julius Tolentino hosts a regular jam session not to be missed, as does Japanese pianist Toru Dodo (on Sundays). Tolentino recounts that in his seven years there, from when he originally became involved as a sub for trumpeter Philip Harper to his co-led jam sessions with trumpeter Jeremy Pelt, that there's "always been a lot of great young musicians (who) come down on a regular basis. It's a great outlet for these guys."
With a sign-up list, everybody's welcome to play. Dodo, whose first gig after moving to New York seven years ago was at Cleopatra's in 2001 has since been hosting weekly jam sessions as well and affectionately calls the venue his "second home in New York". Dodo has the rare opportunity to experiment with and play a lot of new music and compositions (his trio opens the first set), as well as having the chance to engage with the many musicians who drop in. "I've had a chance to play with such wonderful musicians," says the pianist. "And I really like the loose feel."
Luminaries like Wynton Marsalis (an especially fond memory for Dodo) and Roy Hargrove have shown up in the past to jam. Singers like Roseanna Vitro and Tessa Souter have also graced the small stage with their presence. This was also the venue where the magnificent vocalist Andy Bey, and the equally impressive Teri Thornton, held forth for short periods before they began to regain widespread notice years ago. Says Maher of the notorious players who have surprisingly graced the space, many of them Jazz at Lincoln Center regulars and Wynton Marsalis associates (like pianist and regular Eric Lewis, host of Monday night jams), "Every one of them - they come to hear, eat and jam."
On other nights there are headliners in more "formal" programs. Recent memorable acts like Joel Forrester and the Spirit of Life Ensemble bring their unique sounds to the venue. This month trumpeter Waldron Ricks and Todd Herbert perform.
With night spots like J's (now gone) and others like Augie's (since transformed into Smoke more than ten blocks up the street), the UWS sorely needs a club like Cleopatra's Needle. Manager Maher's plans for the present and the future of Cleopatra's Needle, UWS' coziest jazz joint: "I'll keep it the way it is as much as I can."
comments powered by

Disqus