Cleopatra's Needle
Address
Web Links
More Info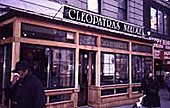 One of the things that still makes the Upper West Side (UWS) a cozy place is a street-level restaurant/jazz club on Broadway at 92nd Street known as Cleopatra's Needle where patrons linger, eat, drink and take in some great jazz sounds day in and day out.
A business establishment since the '70s (originally located next to Symphony Space a few blocks away), Maher Hussein and his brother took over management in 1989 and shortly thereafter moved it to its present location. The Hussein brothers are of Egyptian origin coincidentally, serendipitous as the business was originally named after the famed ancient Egyptian obelisks shipped from Alexandria in the late 1800s to New York's Central Park and London. After visits to New York as students, they became permanent residents by the early '80s. After a few years of co-managing the small inviting room which first featured Asian music, they turned to the music which Maher has always loved - jazz. By 1993, jazz became as permanent a fixture as their highly respected and reasonably priced Mediterranean menu. Though Maher's elder brother passed away in 2000, Maher himself continues a tradition which has become a much needed locale on the UWS. As he simply puts it, "Jazz is everything in my life now."
Is Near
---
Attended a Cleopatra's Needle concert?
Share your experience by posting a comment...
---
Page Stats: 20,898 views